If you're new to blogging and you've already published a few posts, you may be wondering – when does the traffic start coming in?
As a matter of fact, one of the most common frustrations that new bloggers face is this. They publish quite a few articles on their new sites, excited for their audience to start building. Except, after waiting weeks or even months, their blog is still a ghost town.
Don't worry – this doesn't necessarily mean that there's anything wrong with your website, or even the approach you've been taking with your content.
In this article, we're going to cover how many blog posts you need, before you start receiving traffic. Then, we're going to cover how you can speed up the entire process, and get visitors coming in more quickly.
So James, What's The Magic Number?
There isn't one – however, most people should at least be seeingsomeorganic traffic from Google, after around 15 posts and two months of your website being online.
This number is high enough to ensure you have a good mix of keywords to potentially compete for, and long enough for Google to have properly indexed your website by now. If you're currently beyond this point and still aren't receiving any Google traffic at all, there may be something wrong with your strategy – perhaps targeting keywords that are too competitive, or writing articles on topics that nobody is searching for. We'll discuss more on how to properly target keywords later in this article.
Note however that these numbers are only a set of guidelines. Some websites may start ranking after only 3 posts, whereas websites in very competitive niches might struggle for traffic even after 50 posts or more, if they're not actively building backlinks to their articles.
Remember that Google's priority is to ensure that they are best serving their users. This means that they display legitimate, quality search results for each search that is made.
Early on in your website's life, Google has a hard time judging whether or not your website is legitimate, a giant spam farm, or even downright malicious. They learn over time by studying your website, and using a variety of signals to help judge where your website should stand.
问题?没有现有的访客,这将非常困难。
Google also looks at other factors, like the topical relevance of your website. This is why it's so important to cater your website to a specific niche. If Google can recognize that you've published 15 articles on coffee for example, it's more apparent that coffee is the area that you specialize in. This may help you rank above other websites that focus on a huge variety of beverages, but have also yet to receive any of these other signals that Google's looking for.
When it comes down to it, there are a million and one reasons why blog articles may or may not be ranking, so all that we can do is work to maximize our chances.
Let's look at a few things that can help blog articles rank faster.
1. Set Up Google Search Console
如果你还没有这样做,你应该probably do it now.
Google Search Console is a suite of tools that Google has released for website owners, which can help them to pinpoint any issues that prevent their site from being indexed by Google. It also provides some insights as to how your website is performing, which can be useful in the beginning stages.
通过设置,你可以回答一些重要的曲estions. For example, you'll be able to check whether or not your pages have even been discovered by Google yet, or whether they're rankingat all.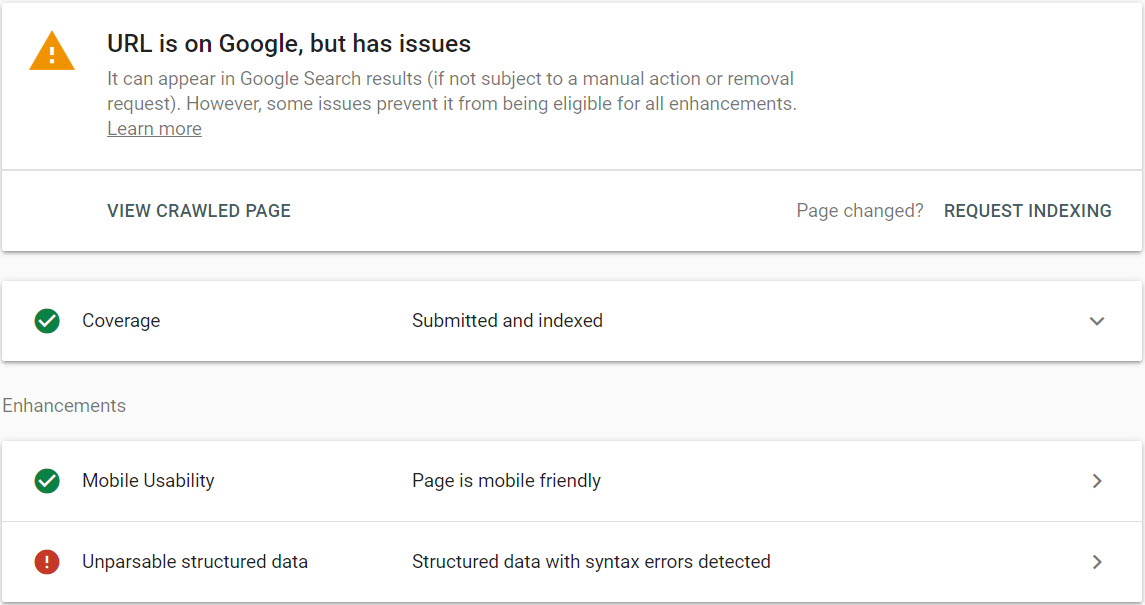 Pages may in fact be ranking, but be showing up on page 7 where nobody ever searches.
Or, in the example above, they may be indexed and even ranking well, but could do better by fixing the issue that Google's notifying us about.
By paying attention to warnings and data available inside of Google Search Console, you'll ensure that there are no technical issues impacting your website's ability to rank.
2.跟踪结果与Google Analytics – No Alternatives
Google Analytics is far more accurate, than other free analytics plugins like Jetpack.
我什至要说的是,Jetpack对于跟踪真正的人类访客是没有用的。
因此,如果您想监视您的文章在搜索中的表现,则需要确保使用Google Analytics(分析)。
Fortunately, setting it up is easy, andinstructions are available on Google's website.
3.目标低竞争关键字,并具有搜索需求
More often than not, this is the step that causes people issues.
如果您想在博客上取得成功,则不能仅仅写任何您想要的内容。首先倾向于进入我们脑海的大型,令人兴奋的话题通常是所有其他博客作者(拥有更大,更具权威性的网站)已经写的。
You're free to write about these later, but realistically speaking, you're just not going to rank for these keywords when you're just starting out.
Never forget that every keyword is a competition. You are competing with every other website that has written something on the same topic.
Some of these websites have been around longer, have more visitors, and have more positive signals that demonstrate to Google that the website should be trusted and valued.
This means that in the beginning,you should only focus on keywords that all other websites have ignored.
This means that when you do a Google search for the keyword, the front page isn't full of articles already published on it. While a few might be okay (you can still get decent traffic if you rank in position 3 for example), you don't want the the entire first page to be filled with competing articles.
Note that pages from websites like Reddit, Quora, or niche forums may be able to be overtaken with a full article, even one from a new website.
If you can find keywords that are both receiving a decent amount of search volume each month, while also having few to no competitors, you are practically guaranteed to receive Google traffic for those articles. This is why keyword research is a skill of its own, and is right up there with 'good content' in terms of its importance.
有关我在新网站上使用的确切关键字研究策略的详细信息,be sure to check out my blogging course by clicking here.
4. Bite The Bullet. Build Backlinks!
For many niches, building backlinks is a necessary evil.
很少有人真正喜欢做的事情,但是通常会产生更多的影响,而不是简单地生产更多的内容。
In fact, good backlinks can lift upyour entire website以非常难以置信的方式!
在你不熟悉的情况下,反向链接只是一个link back to your website, from other websites on the internet. They are one of the most powerful signals to Google that a website is credible and should be paid attention to. The more quality backlinks that your website receives, the more authoritative and trustworthy it will appear in Google's eyes.
There is a direct correlation between links to a page, and where that page will rank on Google.
对于竞争性疑问,许多顶级景点都将已经建立了反向链接 - 除非您建立自己的建造,否则很难与他们竞争。
By the same token, active backlink building can take otherwise small websites, and help them rank in top positions even for very competitive keywords.
实际上,某些人的整个策略是对他们知道会赚钱的几个关键页面进行排名 - 他们的整个网站一次对一个关键页面进行排名。
I call this the 'competitive link builder' strategy, and you can read more about it (and the other main blogging strategies) by clicking here.
5. Pay Attention To What Works
Finally, as soon as you start receiving any traffic at all, it's important to pay attention to what's worked for you – then repeat it.
If certain topics are doing better for you than others, continue fledging out articles in those areas until you have nothing left to write about – then move onto the next one.
Google the primary keywords that you're ranking for, and look at what websites you've managed to outrank. Is it possible that you could outrank them for other pages too? What types of articles dothey倾向于写吗?
Instead of chasing something entirely new, repeat what's working as long as you can.
Remember, the goal is to maximize the amount of traffic you receive, with the least amount of effort. This means crafting your content around keywords that you're more likely to rank for.
因为无论您的内容有多伟大,没有人看到它的意义不大。
Conclusion
如果您已经写了几个月的博客,而搜索引擎流量不存在,则可以考虑更改策略。
While it's normal for blogs to take 6 months or longer to begin receiving steady traffic, you can expedite the process by targeting easy keywords.
有关如何建立有利可图的博客的更多信息,check out my blogging course by clicking here.
To your success,
– James McAllister